So I just wanna point out that I'm not really looking for any followers or anything like that. The main reason I made this blog is because I love the things people post on tumblr. Especially when it comes to my fandoms haha I think they're hilarious. I dont consider myself as a blogger or anything. I just get on here for the laughs whenever I have nothing to do...=p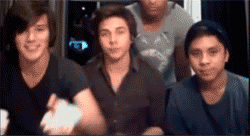 this dog is part husky part lab

the split is straight down the middle, quite literally

LOOK AT THIS!!! It looks like two different dogs! She literally got looks from both sides of her parents! JUST IMAGINE HOW HAPPY THEY MUST BE!!!!!
Taylor Swift - Shake It Off x
Every hour, a supernatural teen gets hunted down and murdered. But thanks to donors like you, three thousand sexy teens were rescued last year. For hundreds of others, help never showed up. If you don't call this number, you're a murderer. 1-800-STOP-KILLING-SEXY-TEENS-YOU-GUYS.
stydia in this episode

stalia in the promos
lydia and stiles + ariel and eric

insp x
A COUPLE THAT GETS TAZED TOGETHER STAYS TOGETHER
best scene of the whole night.
stydia was fucking real man.